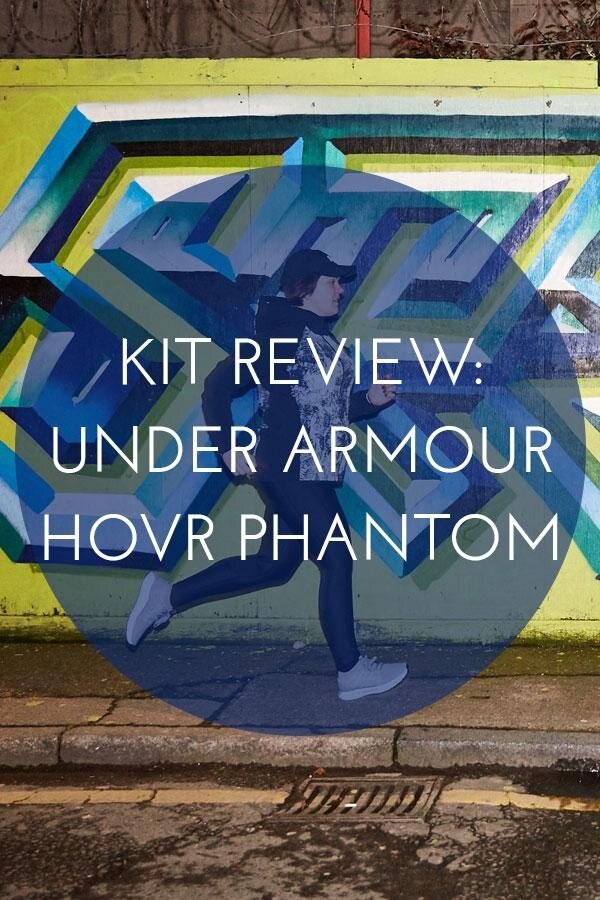 I'm quite picky about the shoes I choose for running. After having a few injuries which were exacerbated by wearing the wrong shoes, I'm now reluctant to move away from my podiatrist-approved Adidas Boosts. When I was invited to the launch of the new Under Armour HOVR Phantom and Sonic, I was curious to see how they compared to my regular shoes.
The launch was held at the Oval Space in East London, where we heard about the technology which went into the development of the shoes. As someone with a background in fashion design, I'm always interested to hear how apparel has been developed from an initial idea into a finished product. The HOVR shoes were designed to give a 'zero gravity feel' which eliminates impact and essentially 'lifts up' the wearer as they are running. I can be a little heavy-footed when I run, so the idea of bouncing lightly along the pavement had me sold!
I opted for the HOVR Phantom, which was described as being ideal for distances up to 10km. The sample shoes were available in white and light grey, which were perhaps not the most practical colours for winter running! They felt incredibly lightweight and bouncy, whilst providing enough support to my feet. Under Armour really thought outside of the box when designing the sockliner, as it is based on a cycling chamois and manufactured in a bra factory.
Another interesting feature is that these shoes come with a sensor pod embedded in the sole, which transmits data to MapMyRun. I wasn't able to connect the sensor to the app on launch night, perhaps because there were so many other shoes within range.
We headed out on a 5km run lead by London Brunch Club around Shoreditch. I'm really happy to be based in London again as there are so many running routes to explore- this one took us along the canals and down graffiti-lined alleys. Our group stayed together at a comfortable 6 min/km pace, as the run leaders blasted out music from portable speakers.
The HOVR Phantom felt great to run in, just as cushioned and comfortable as I'd expected. However, the arches of my feet were beginning to ache towards the end of the route. I usually wear orthotic insoles to re-align my flat feet, so I quickly notice when I don't have that extra support.
I've worn the shoes several times since with my insoles, both and track and on road runs. They provide excellent traction even on an icy track, due to the texture of the knobbly rubber sole. Unfortunately, I also managed to tread in dog-poo on my last run… that was pretty disgusting to remove from the sole!
My only criticism is that I do find the HOVR Phantom a little difficult to put on. The knitted ankle collar is very snug and could do with a loop at the heel to help pull them on and off.
At £115, these are more than I'd usually spend on a pair of running shoes, but for this price, you are getting a fantastic shoe with cutting-edge technology. Check out the full Under Armour range at Very, including the HOVR Sonic shoe.
Photos by Ben Wedderburn.
Have you tried the Under Armour HOVR Phantom or Sonic? What is your favourite running shoe?