My 6th and final race of the season was the Monster Standard triathlon. This was another race which had been on my to-do list mostly because of the awesome medal design.
The race is set in the historic city of Ely and is part of a series of events organised by Monster Racing. We've tried to choose triathlons which are fairly local to avoid booking accommodation, but it hasn't quite worked out and we've stayed overnight at the majority of our events. Airbnb has become our go-to website for finding an affordable pre-race accommodation. This time, we stayed in a lovely cottage in nearby Stretham, so there was only a 15 minute drive on race morning.
As well as the standard distance, there was also a middle (half-iron) distance which was set off earlier. After racking our bikes and getting set up, we watched the earlier waves start their swims.
Swim- 1500m?- 35:51
The swim course was an out-and-back in the Great Ouse River. We started outside a pub on the riverbank and swam downstream for 1000m before turning back for the final 500m. The current was very light and barely noticeable.
As I waited to start, I pulled on my swimming cap and ripped a big hole in one side of it. There wasn't time to grab a new one from the registration desk, so I had to stuff as much hair as I could under the remaining cap and I hope it stayed on my head during the swim. These flimsy swimming caps really aren't designed for thick hair!
I'm usually raring to get into the water on race day, but I felt quite reluctant about jumping into the Great Ouse. There was oil on the water's surface and weeds floating past- it didn't look like the cleanest body of water I've ever swam in. Someone next to me was coughing and retching into the water- I tried to move as far away from him as I could!
The klaxon sounded and we were off. It was quite a crowded start, with everyone bunched into the centre to avoid the boats at the edges. I had to shorten my stroke to avoid the legs of the swimmers in front of me. I received a few kicks and punches, but nothing too bad.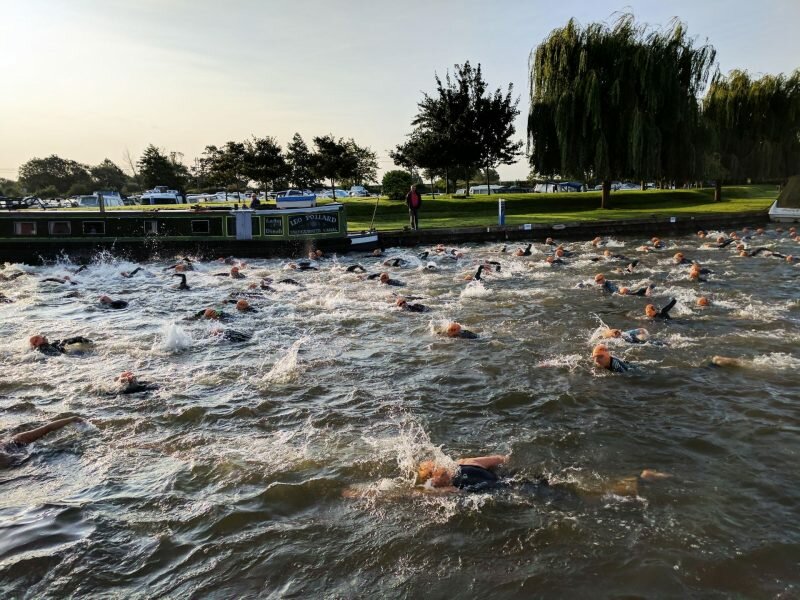 Once the pack had thinned out, it became an enjoyable swim. I amused myself by looking into the windows of the riverboats as I turned to breathe. I saw a dog looking back at me quizzically obviously wondering what we were doing in the river!
The sunlight was strong and I really struggled to see anything ahead, I almost missed the point where we had to keep right and go under a bridge. I must invest in some better polarised goggles.
Getting out of the water was tough, I struggled to stand up and needed the help of several marshalls as I hobbled across the sharp rocks. My hat had stayed on, but still with half my hair hanging out.
Again, I found the swim course to be long- my Garmin recorded it as 1750m.
Transition 1- 3:03
Bike- 44km- 1:37:18
There are two words to describe and bike course at Ely: flat and windy.
We headed out of the city into the fenlands on a single lap of 44km. The route was very straightforward with nothing technical and only one right-hand turn. Ely Cathedral dominates the skyline of the low-lying countryside, I could see it in the distance throughout most of the ride.
The roads were very bumpy and uneven in places. My hands went numb from the constant vibrations, luckily my water bottles were secure in their cages. It was quite a slog in some places riding into a strong headwind with rough surfaces, I just kept pushing on aiming to catch and overtake whoever I saw in the distance.
I'm told that the bike route has been changed since last year to cut out a loop in the city centre, which definitely sounds like an improvement. It's always good when race organisers take into account feedback and try to make the event the best it can be.
Despite being longer than a 'standard standard' distance, the bike course seemed to fly past. Soon I was back at the dismount line and ready for the final stretch.
Transition 2- 1:42

Run- 11km- 1:06:20
The run course was four laps which took us along the riverside, through city and the grounds of Ely Cathedral.
Laps but can mind-numbing, but I actually really liked the idea of breaking the distance down into smaller segments. I only needed to focus on running 2.75km (1.7 miles) each time which feels a lot more manageable than 11km. We received a wristband at the top of Cherry Hill Park to keep track of how many times we had completed the lap. Those people completing the middle distance needed to run 8 laps and their arms were loaded up with wrist bands!
Running around the Cathedral was really quite special, it's absolutely vast and beautifully maintained.
We passed through transition on each lap where the drinks station was also situated. The crowd support was brilliant and the music was pumping (although I'm sure the same song was playing everytime I came through). Glen had finished by the time I headed out on my 3rd lap, so I got to see him as well as Laura who was there supporting her boyfriend Phillip.
Despite trying to keep an even pace, I did get slower and slower on each lap. I found the Cherry Hill quite tough and resorted to power walking to the top. I still have a lot of work to do on my running.
I was glad to pick up my fourth and final wristband and head back towards the finish line. I managed a sprint finish and picked up my one-eyed monster medal, which doubles up as a bottle opener. Definitely one of my favourite medals!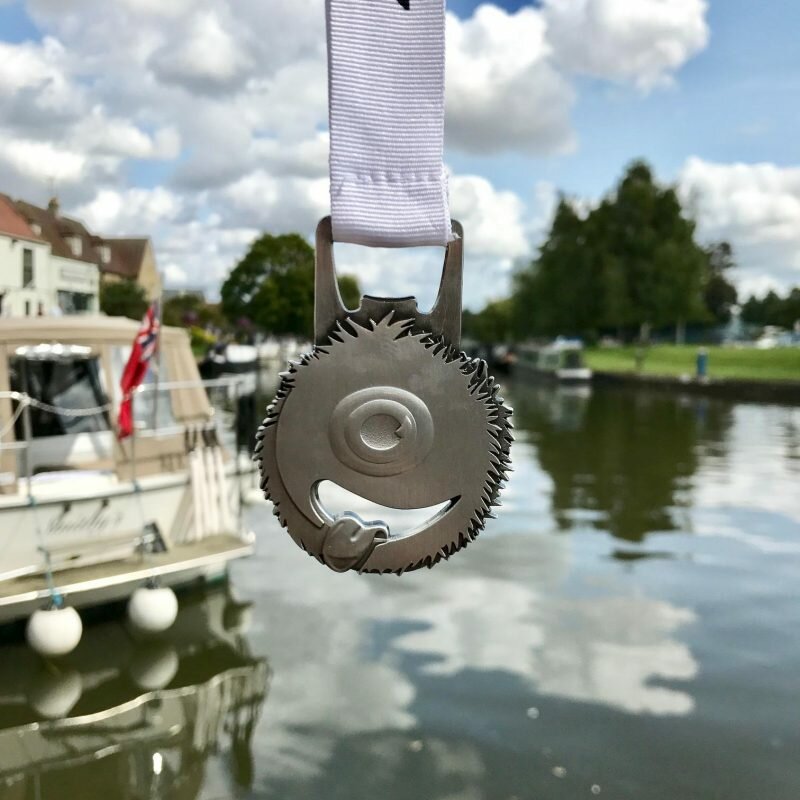 I really enjoyed the Monster Standard Triathlon, it was a beautiful location and very well organised. The perfect way to round off a summer of racing. I'm keen to check out some of the other races in the Monster Racing series.
Thanks to Laura and Ian Green for the photos.
What's your favourite medal? Do you like running laps or prefer a single loop?