Back when I started out in triathlon, there wasn't a great deal of choice around for trisuits. Everything for women was black, sleeveless with a few pink panels.
I've since designed and developed a range of kit for my triathlon club, which is what I now wear to race in. I love wearing my club trisuit, the colours are bold and bright- you can spot our members coming from a mile away!
However, if you are not a member of a club, you'll probably be looking for a cool and comfortable suit to for race day. The market for trisuits seems to have really expanded in recent years, along with the growth of triathlon as a sport. There's a lot of choice in terms of cut, colour, print and pattern. It may feel a little late in the year to be investing in a new trisuit, but the sales are now on so you could pick up a bargain ready for next season. I've rounded up 8 of my favourite women's trisuits…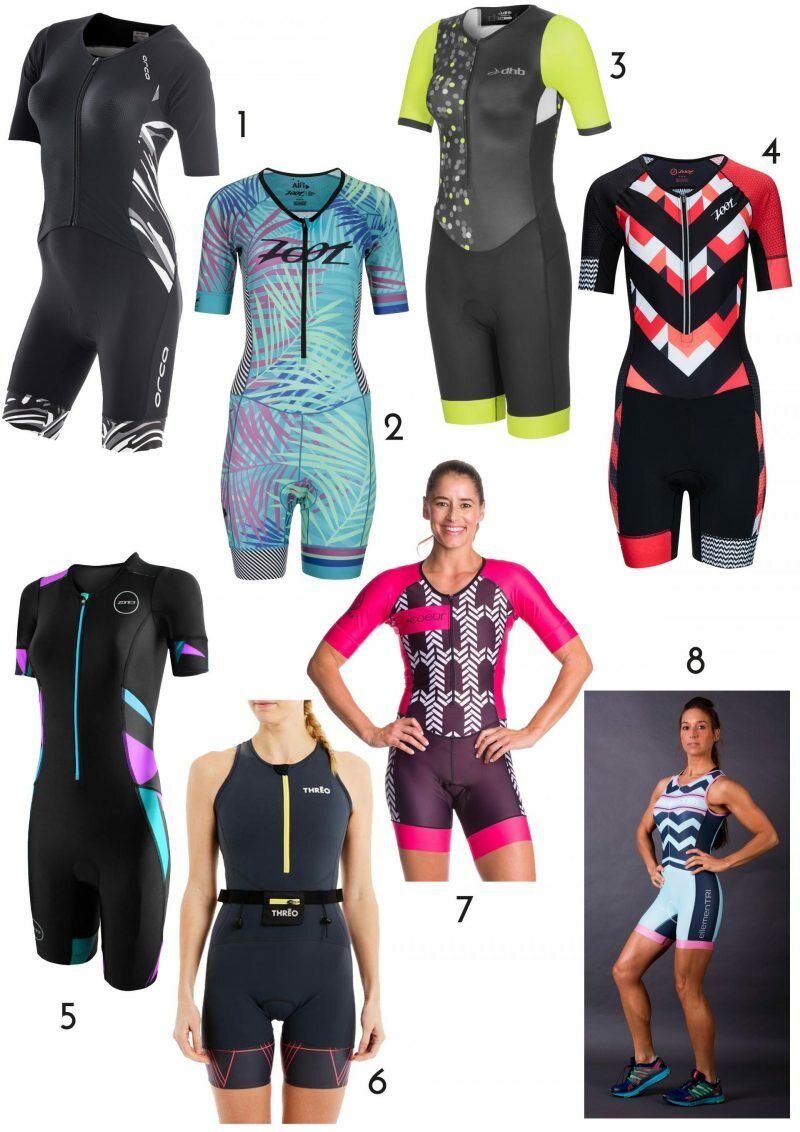 1. Orca Compress Short-Sleeve Race Suit
Flashes of camo/marble print on the side panels of this suit really liven up the design.
2. Zoot Ali'l Short-Sleeve Race Suit
Inspired by the place that Zoot was founded, the suit is covered in a Hawaiian tropical palm print. I love the colours!
3. dhb Blok Short-Sleeve Tri Suit
dhb have some fantastic prints, especially this fluro yellow and grey spotted suit.
4. Zoot Ultra Tri Aero Skin Suit
Another lovely Zoot suit in a geometric chevron design. I've seen several women racing in this suit this season and it looks amazing on.
5. Zone3 Activate+ Short-Sleeve Tri Suit
A little more subtle, this Zone3 trisuit features a graphic print on the side panels and back pockets.
6. Threo Hyde Park Tri Suit
Threo kit is designed with incredible attention to detail, I love the race-belt and pocket which comes attached to this trisuit.
7. Coeur Arrow Tri Suit
Another funky geometric print, this time from American brand Coeur which is exclusively stocked at Kyra Sports.
8. ellemenTRI I'm Possible Tri Suit
This chevron print suit has a motivational slogan on the back. Another colour combination which I love!
I was sent the Orca Compress Short-Sleeve Race Suit to try out at a recent triathlon. They say never to try anything new on race day, but I took a chance with this suit and absolutely loved wearing it.
Pros:
The waist opens fully at the front to allow for quicker toilet stops. I've seen this feature on men's trisuits, but not on a female version as yet. Obviously you'd still need to take off the whole suit in the portaloo, but this feature should make it slightly easier.
Having been sunburnt in most of my races this summer, a trisuit with sleeves is a game changer. Keeping my shoulders and upper arms covered without needing to re-apply suncream in transition.
The stretchskin fabric on the legs, sides and shoulder panels is constructed to improve aerodynamics and offer muscle support. Now I'm not sure if I am more aerodynamic, but I did find the fabric incredibly comfortable and supportive.
The female specific chamois was also very comfortable. Whilst fairly thin, it did provide adequate padding and prevented any saddle soreness.
The trisuit dried quickly after getting out of the water, which is again down to Orca's stretchskin fabric.
The two back pockets have a flap of fabric over the opening to seal them closed, keeping my race nutrition secure throughout the bike and run.
The wide rubberised bands on the legs keep them firmly in place without digging into my thighs.
The printed side panels and leg bands really liven up what would otherwise be a plain black trisuit. I love a bit of print and pattern!
Cons:
I'm not keen on the white mesh back panel, purely because it leaves my tattoo slightly exposed to the sun.
The end of the zip has not been finished smoothly and caused chafing to my chest. I had the same issue with my club trisuit which had to be sent back to the supplier for replacement.
The black fabric really shows up any white marks from suncream or chamois cream. It can look at bit grubby before you've even started the race!
Overall, a fantastic choice for both short and longer distance races. Millet Sports have quite a range of triathlon kit on their site, much of which is reduced including this trisuit which is down to £81 from £125.
Contains affiliate links- I earn a small commission on purchases made via these links which help towards the running costs of my blog.
Trisuit was sent for review by Millet Sports, but all opinions are my own.
Thank you for Laura for the photo.
What do you wear to race in? Do you prefer bold colours and patterns or something more subtle?