One of my favourite sources of motivation is the Tough Girl podcast which features interviews with inspirational women overcoming great challenges. As a offshoot to the podcast, the host Sarah Williams created the Tough Girl Tribe, a closed Facebook group for listeners. This tribe is full of amazingly supportive women who are preparing for a huge variety of challenges all over the world. I got talking to one of these women who turned out to be local and was planning her own challenge in our home county.
Juliet was aiming to hike the entire length of the Essex Way in four days. The Essex Way is a 82 mile long trail leading from Epping Station to Harwich Old Lighthouse. It crosses the entire county from the borders of London to the coastline. The route takes you through woodland, villages, country lanes and farmlands. I must admit I hadn't heard of the Essex Way before speaking to Juliet, but I knew it was definitely something I wanted to get involved with.
Like myself, Juliet is proud of being born and raised in Essex and keen to remove the stereotypes. She is involved with the Essex Women's Advisory Group or EWAG. This is a group set up to support the wellbeing of women and girls living in Essex. The group aims to challenge negative stereotypes by promoting the confidence and achievements of Essex Women and Girls, and supporting those in need. Their fundraising efforts have benefited local women's refuges as well as supporting confidence-building projects for female school students and Girl Guides.
Fittingly, Juliet began her walk on Wednesday 8th March which is International Women's Day. I followed her progress on Instagram as I prepared to join her for the final 21 mile section on Saturday.
Wearing my This Girl Can Essex T-shirt, I arrived at mile 63 to meet Juliet where she had left off the previous evening. She was looking very fresh for someone who had walked 63 miles! We were also joined by Tina who is involved with the Girls Guides of North East Essex and we set off along the trail.
I immediately noticed how clearly the path is waymarked, it was fairly easy to spot the red poppies on white discs which guided us along the route. After getting our legs warmed up for the first mile, we stopped briefly to stretch at the beautiful medieval church in Dedham. This area is known as 'Constable County' as the painter John Constable favoured Dedham for much of his landscape work.
Moving on, I got to know more about Juliet and Tina and their work supporting teenagers in the local community. We were keeping a good pace, but were wary of starting too quickly and burning out towards the end of the walk.
Manningtree was the next notable point on our walk, it's known as the smallest town in England. We admired the Georgian buildings and brightly painted houses, before walking into Mistley the next village on the route. These places seem a world away from the busy urban towns in the part of Essex where I am from.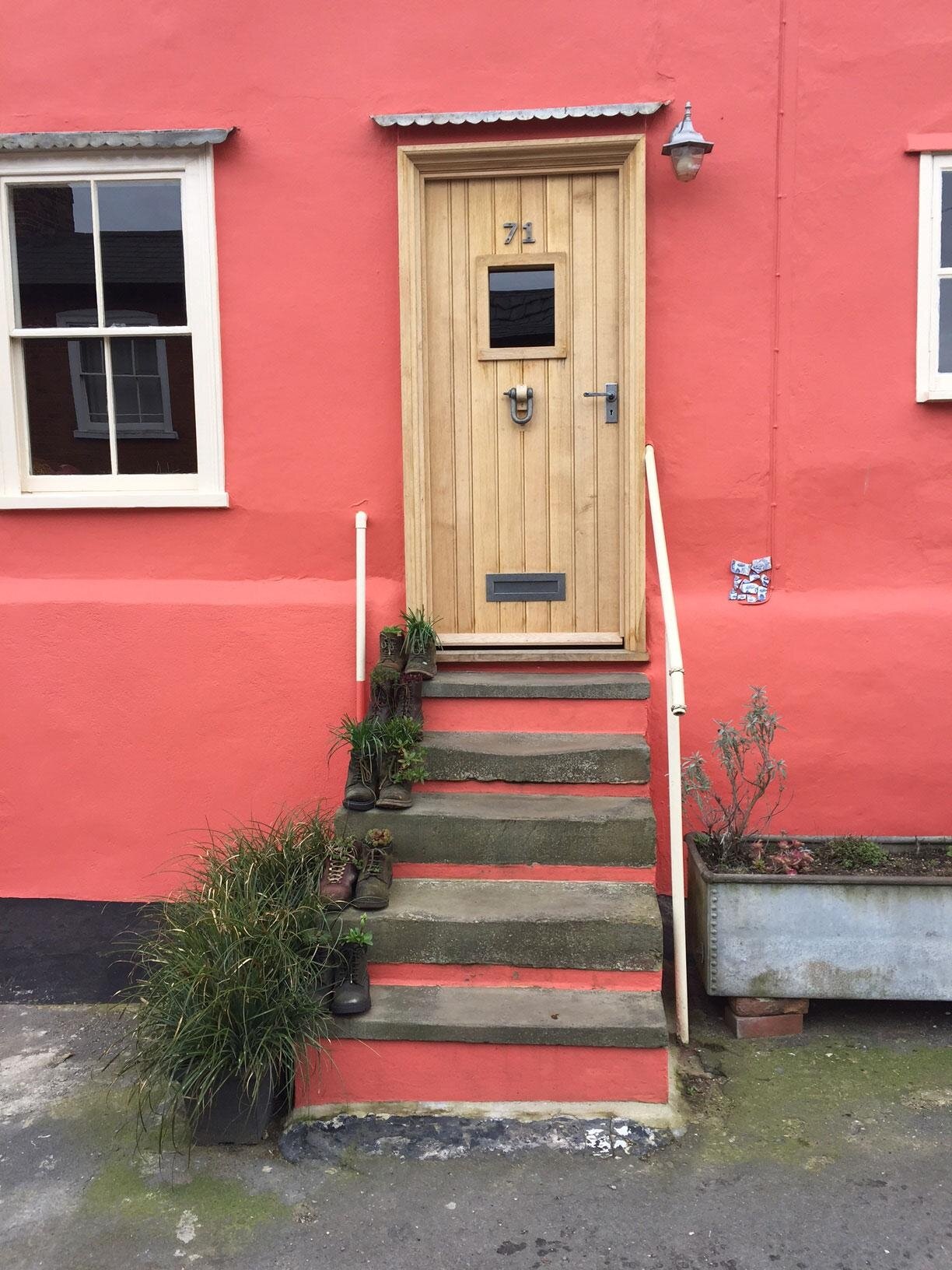 From here, the route took us through mostly rural areas across wide open fields and enclosed woodland. We would often have to hop over stiles or through gates and recheck the route map. The mud was thick and slippery in some areas, I was glad of my new walking boots which were holding up nicely.
We met up with the River Stour again and followed the path into the saltmarshes and mudflats of the Wrabness Nature Reserve. The area is full of wildlife, particularly birds. We stopped for a lunch break on a large log in a bay looking out across the incredibly still water. The cranes of Harwich, our final destination could be seen in the distance and I joked that I might swim the rest of the way.
After passing through the tiny village of Wrabness, we decided to make a very slight detour in order to see something quite special. A House for Essex was commissioned by the artist Grayson Perry and stands as a homage to "the single mums in Dagenham, hairdressers in Colchester and the landscape and history of Essex". It's golden roof was visible from way in the distance and as we got closer we could see the green and white tiles embossed with motifs. It really is an awesome building and it's bizarre how it's placed in a cabbage field in rural North Essex. Unfortunately, it wasn't open as I would have loved to see the interior. As the theme of Juliet's walk was to support women and girls from Essex, it seemed fitting that we spent some time admiring Grayson Perry's tribute to local females.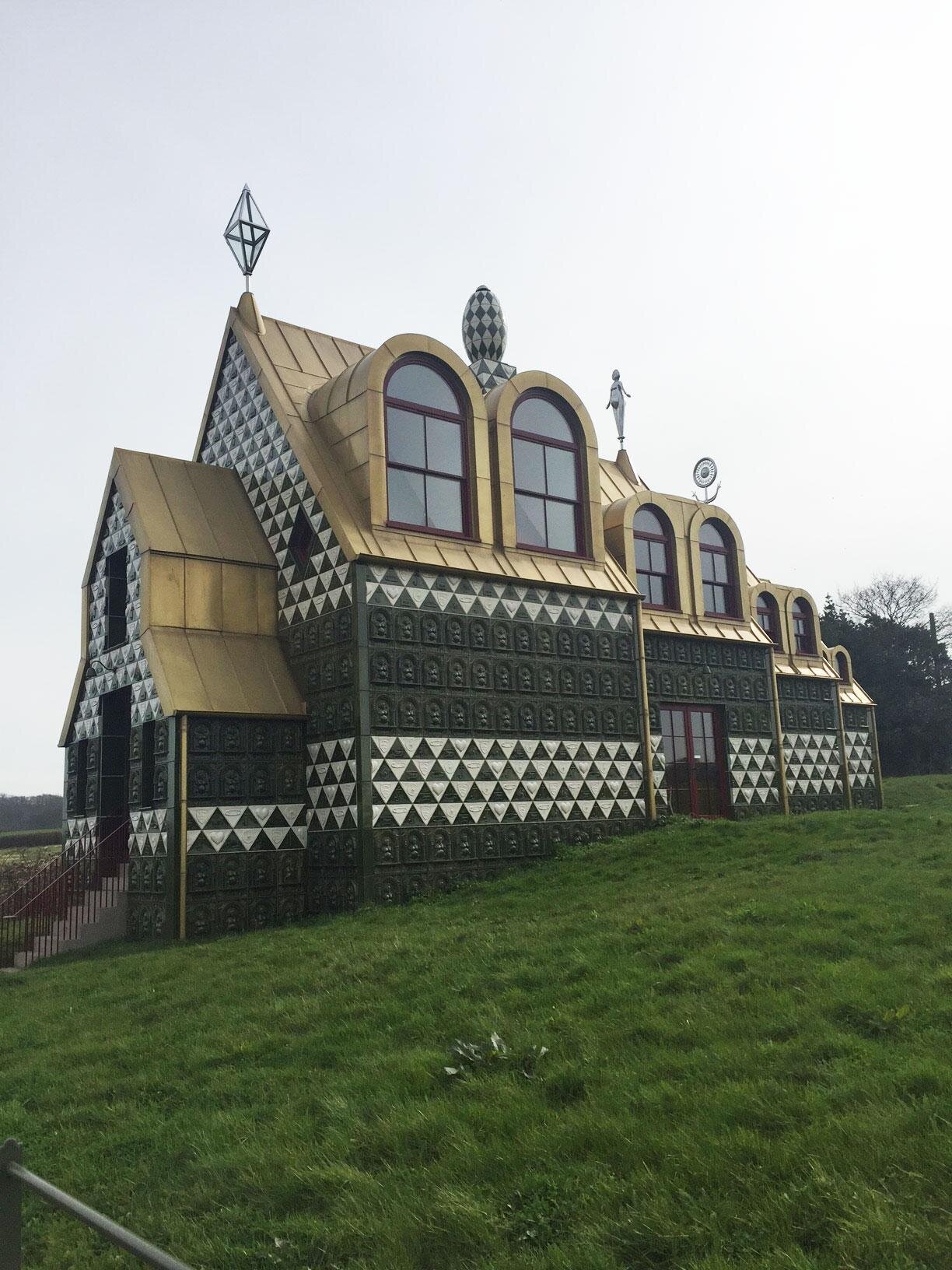 Joining us at this point was the current Miss Essex, Emily Evans. Another local woman who is smashing the stereotypes, Emily told us about the intelligence tests she passed to be crowned winner of the beauty pageant. Since earning her title, Emily has climbed Mount Kilimanjaro and volunteered with the Brownies.
From here the trail veers away from the River Stour, seemingly taking you further away from the finish line. Essex lived up to it's reputation for being very flat as there had barely been an incline throughout the walk. We stood and watched a group of horses who were being moved from one field to the next. It was lovely to see the sense of freedom and excitement as these horses stampeded into their new pasture.
Stopping for a quick toilet break and drink at a pub in the village of Ramsey, we rested and prepared for the final push into Harwich. We realised we would be arriving at the finish line almost an hour sooner than expected. Juliet was keeping a great pace despite having been on her feet for 75 miles at this point.
Brightly coloured huts and a pebble beach signalled our arrival into Harwich. Huge tankers were delivering their cargo into the port. Looking at the sea, I thought of my upcoming Solent Swim and felt the nerves bubbling up. We followed the promenade searching for the lighthouse which indicates the end of the Essex Way. We saw several smaller lighthouses, but they were not the correct one! The finish seemed so near, yet so far!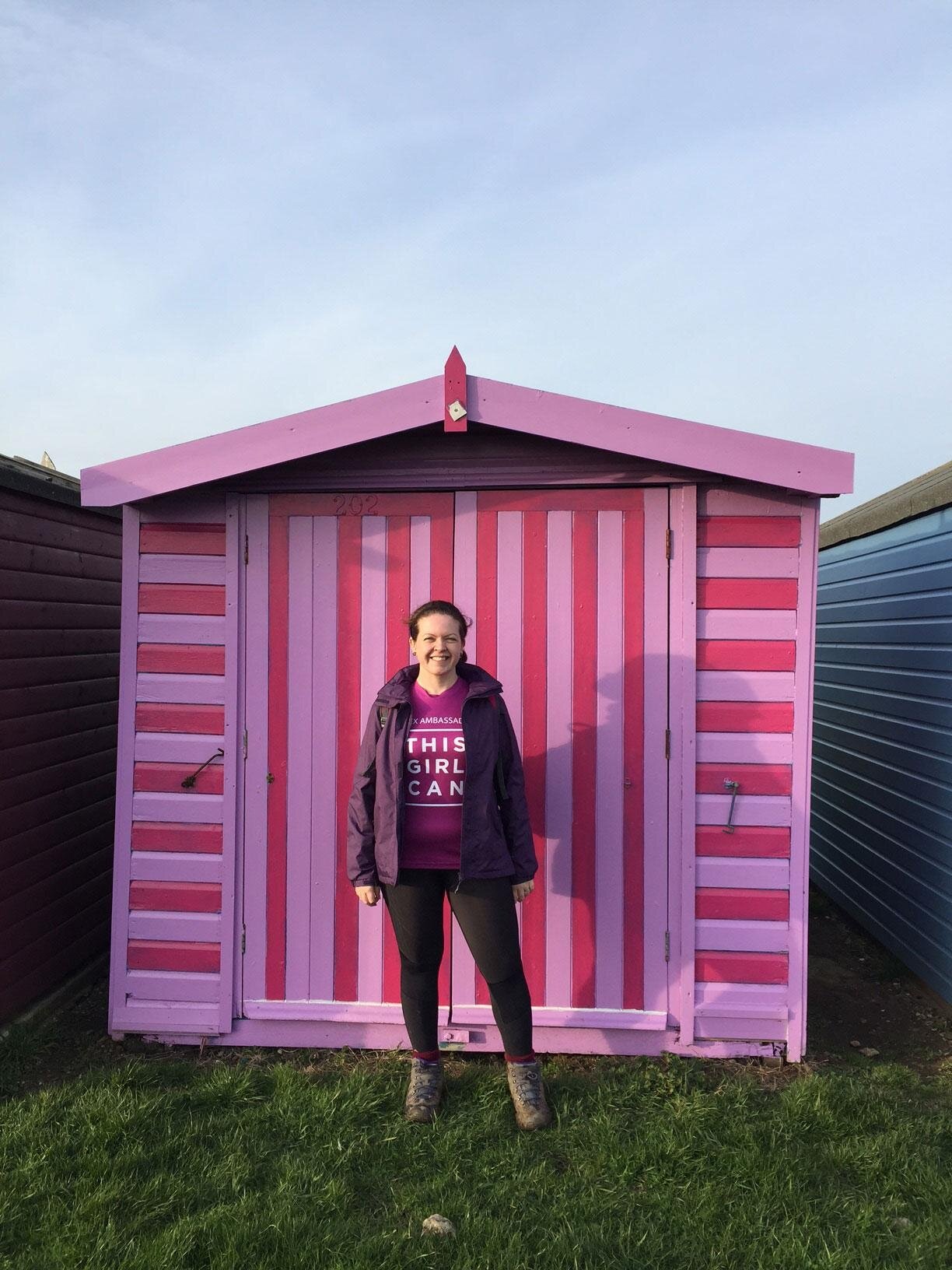 Finally, the Old Lighthouse rose up from behind a playground. We sped over to the plaque on the wall and hugged each other. Juliet had finished her epic 82 mile walk! It was a great feeling to share this moment with these women I'd met only hours earlier. We climbed up the flight of steps for some photos as Juliet's husband appeared. The day was rounded off with some food from a nearby fish and chip shop, the ladies serving us couldn't believe Juliet had walked 82 miles for chips!
Supporting another woman's personal challenge as well as experiencing the great outdoors in beautiful Essex is what made this day really special for me. Despite living in this county all my life, I've never really ventured to the rural parts North Essex. Juliet has raised almost £1800 for EWAG to date, I'd love to see her reach £2000- you can donate here.
Have you ever done a point-to-point trail walk? Did you do anything for International Women's Day?