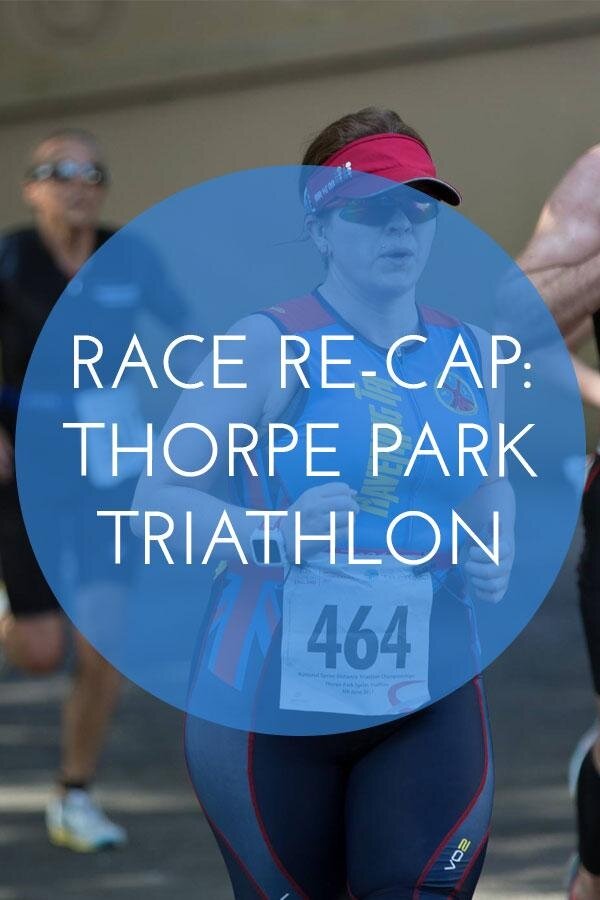 I'm racing quite frequently this summer. The beauty of sprint triathlons is that you can recover quickly and be ready to race again the following weekend.
Usually I prefer to never do the same race twice as I like a variety of different courses and locations. However, I really enjoyed Thorpe Park Triathlon last September so decided to go back again and see if I could improve my time.
Once again, it was an incredibly early start with a 4am alarm. I think the lack of sleep gets to me more than the racing!

Swim- 750m- 15:47
My wave was due to begin at 7.40am, so after seeing Glen off at 7.10am I figured I had some time before I headed to the start. I put on my wetsuit and waited around the swim exit watching the earlier swimmers leave the lake. Glen was out of the water in 12 minutes, so I made my way over to the lake entrance to wait my turn.
I was surprised to see that my entire wave were already in the water 20 minutes early! I checked with a marshall that it was indeed Wave 5 and panicked realising I had almost missed the start of the race. I made a quick decision and jumped into the lake, swimming hard to catch the group as the klaxon sounded.
The swim passed in a blur. I wasn't in the best frame of mind after a bad start to the triathlon. I was confused about why they had started much earlier than the advertised time. Or was it me? Had my watch stopped?
I later found out that due to the terrorist incident in London the night before, Thorpe Park was on high alert. Security wanted the triathlon finished and the park cleared as soon as possible, so they had taken the decision to move the times forward. I totally understand the decision, but it would have been helpful if we were informed!
Despite the panicked start, I finished the swim only 35 seconds slower than last September.
Transition 1- 1:46
My first transition went smoothly, I found my bike on the crowded racking and headed to the bike out as quickly as possible.
Bike- 21km- 44:51
I was familiar with the course from last year, it's pretty straightforward and on flat, mostly traffic-free roads. Being the Triathlon England National Championships, there were a lot of competitive athletes on the course. Plenty of speedy riders on TT bikes came flying past me throughout the bike course.
The early start meant that the weather was cool and mild with a slight breeze, perfect conditions for riding. I reminded myself to drink regularly on the bike as it's pretty easy to forget when you're focused on riding as quickly as possible.
I'm nothing if not consistent, as my bike time was only 5 seconds different from September!

Transition 2- 1:58
Back into the park via the service roads, squeezed my bike onto the racking, changed my shoes and headed back out.
Run- 5km- 27:18
The run course is one of the most enjoyable aspects of this race, it's a lot of fun being let loose in the theme park before it opens to the public. The course is on grass by the lake and pavements between the roller-coasters. As it's two laps, I saw Glen and my friends Trevor and Cristina around the finish line which always gives a much-needed boost.
Again, I was being passed by a lot of fast runners. I try not to become disheartened and keep pushing as hard as I can without worrying about others. Determined to beat my previous time, I kept checking my Garmin as I ran. I realised it was going to be tight to come in sub 1.30, as my swim and bike times were similar to my last Thorpe Park Triathlon. On my second lap, I knew it would not be a PB so I just focused on enjoying the course.
I finished in 1:31:43 which is a little slower than last year. I was initially a little disappointed as I really felt like I was riding and running stronger than last time, but ultimately I'm not going to get upset over 90 seconds! Thorpe Park was still an amazing event, despite the miscommunication around the swim start. I'd really recommend this race to both beginners and more advanced athletes.

Have you ever almost missed the start of a race? What's your favourite theme park?