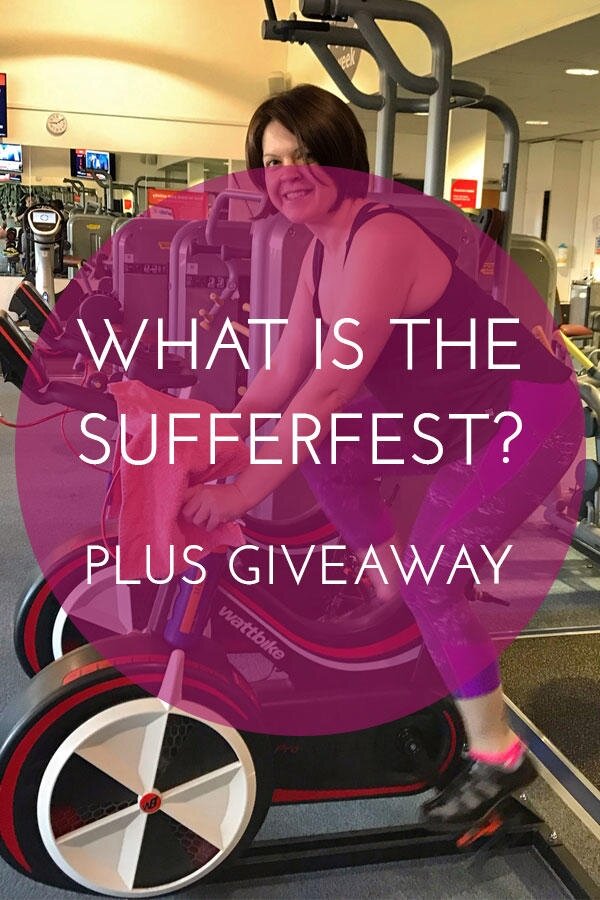 If you follow me on social media or Strava, you'll have seen that I've regularly been doing Sufferfest cycling workouts. You might have wondered what is this masochistic sounding activity?! Let me explain…
What is the Sufferfest?
The Sufferfest is an indoor cycling app with a huge library of targeted workout videos for cyclists and triathletes. The videos incorporate footage from the Tour de France, Giro d'Italia and Paris-Roubaix, which are overlaid with instructions and motivational cues to guide you through a structured training session. The videos range in length from 20 minutes to almost 2 hours and are split into categories including climbing, endurance, speed building, time trial and drills.

The app connects to Bluetooth and ANT+ devices, including smart trainers, power meters and heart rate monitors, so your stats are displayed on screen throughout the ride. You can even use a standard turbo trainer and ride to perceived effort. I use a Wattbike Trainer in the gym and my iPhone 7- this set up works well for me, although it can be hard to see on such a small screen especially when I'm dripping sweat all over it! The app also links with Garmin, Strava, Training Peaks etc. to track your training sessions.
As well as individual use, The Sufferfest is also available in some gyms as group cycling classes- I first experienced it at the David Lloyd Colchester and was instantly hooked!
There's a great sense of humour in each Sufferfest video which keeps the training engaging and entertaining. The rides set in the mythical nation of Sufferlandria- a place of pain, misery and agony, but also a place of honour, glory and victory. Races are directed by Grunter von Agony and riders are constantly under threat of being whipped by The Minions. You'll meet characters like Fluffy the T-Rex and try the national drink: Pain Shakes. Even the videos have unpleasant names like The Wretched, A Very Dark Place and Hell Hath No Fury.

The Sufferfest works slightly differently to other cycling programmes like Zwift, in that you can't compete with other riders or join group rides. It might not appeal if you prefer to ride virtually with club mates.
My coach puts Sufferfest workouts into my Training Peaks schedule, so I tend to ride 2-3 sessions per week. Since doing regular sessions I've noticed an improvement in my power, strength and speed which should hopefully translate onto the road. My FTP increased from 190 watts to 202 watts over an 8 week period.
A subscription to The Sufferfest is $12.99 USD/month or $99 USD/year (quite a bit cheaper than their main competitor Zwift).
What is 4DP?
You might have heard of an FTP Test, well The Sufferfest takes this a stage further with an hour long test based on four key metrics to get a complete picture of your fitness.
NMP (Neuromuscular Power) is pure sprinting ability (5-second power)
AC (Anaerobic Capacity) is for short, sharp efforts (1-minute power)
MAP (Maximal Aerobic Power) is sustained power over a few minutes at VO2 max (5-minute power)
FTP (Functional Threshold Power) measures endurance fitness (20-minute power)
This might sound quite complicated, but just think of it as an hour of pain which helps you find out what your strengths and weaknesses are! Once you've taken a 4DP Test, the power targets in all of your workouts are tailored to match your unique profile.
What is the Tour of Sufferlandria?
The Tour of Sufferlandria is an annual event comprising of nine brutal days of back-to-back workouts, to benefit the Davis Phinney Foundation. It takes place at the end of January/beginning of February and riders from all over the world take part in their own pain caves or gyms.
This year, I completed days 3-9 as I was away for the first two stages. To describe it as brutal would be an understatement, but it really gave my fitness a boost in the early season. The Facebook group is a great source of support and camaraderie for everyone taking part in the tour.
What else does The Sufferfest app include?
Something that sets The Sufferfest apart from other cycling programmes, is the addition of yoga, strength and mental toughness sessions into the app. Becoming a great cyclist isn't just about suffering on the bike- the additional sessions will make you strong, flexible, focused and mentally tough.
Most of the yoga videos are 15 minutes or less, making them easy to fit into your training schedule a few times a week. They are lead by Abi Carver from yoga15.com and are designed specifically for endurance and athletes.

The strength workouts don't require any equipment except for a mat and a couple of water bottles. The high-rep, low-weight exercises will build full-body strength that translates directly to better performance on the bike.
The mental toughness sessions are audio recordings to teach technique for positive thinking, strong focus, goal setting, reviewing and improving your performance. Mental training is often overlooked by athletes, but it can make or break your race day. There's a 10 week training plan to help you maximise these audios on the lead up to a big race- I'm planning to use these sessions as the Brutal Triathlon gets closer.
Giveaway- 3 months trial of The Sufferfest
Now you know a little more about The Sufferfest, fancy paying a visit to Sufferlandria and challenging yourself to outride The Minions? I'm giving away 3 month trial of the app, which gives you access to all cycling, strength, yoga and mental toughness sessions.
Competition now closed- the winner is Thomas McNamara